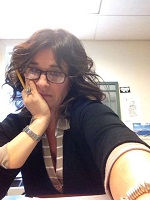 Ph.D. Philosophy, 1994
CUNY Graduate Center
Areas of Specialization: Early Analytic Philosophy; Philosophy of Language; Philosophy of Mind
Selected Papers:
"The Origin and Influence of G.E. Moore's 'The Nature of Judgment'" in M. Textor, Judgement and Truth in Early Analytic Philosophy and Phenomenology (Palgrave/Macmillan, 2013); 183-205
" 'He Was In Those Days Beautiful and Slim': Bertrand Russell and G.E. Moore, 1894-1901," Russell: The Journal of Bertrand Russell Studies, n.s. 28 (winter 2008-09): 101-26.
"On the Origins of the Contemporary Notion of Propositional Content: Anti-Psychologism in 19th Century Psychology and G.E. Moore's Early Theory of Judgement," Studies in the History and Philosophy of Science, Part A (39.2): June 2008, 176-185.