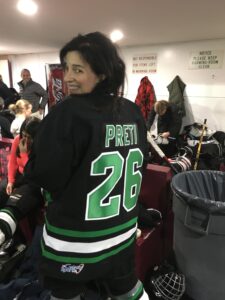 Ph.D. Philosophy, 1994
CUNY Graduate Center
Professor and Chair, Department of Philosophy, Religion, and Classical Studies, The College of New Jersey
Areas of Specialization: Early Analytic Philosophy; Philosophy of Language; Philosophy of Mind
When I am not on the ice I am working on topics in early analytic philosophy. My recent books have covered Moore's early philosophical development. My current work continues the investigation of analytic philosophy from its early inception to the mid-century.
Books
2022-24
Selected Papers:
"The Origin and Influence of G.E. Moore's 'The Nature of Judgment'" in M. Textor, Judgement and Truth in Early Analytic Philosophy and Phenomenology (Palgrave/Macmillan, 2013); 183-205
" 'He Was In Those Days Beautiful and Slim': Bertrand Russell and G.E. Moore, 1894-1901," Russell: The Journal of Bertrand Russell Studies, n.s. 28 (winter 2008-09): 101-26.
"On the Origins of the Contemporary Notion of Propositional Content: Anti-Psychologism in 19th Century Psychology and G.E. Moore's Early Theory of Judgement," Studies in the History and Philosophy of Science, Part A (39.2): June 2008, 176-185.